DO NOT TOUCH DRY ICE
MEMORIAL MEALS HEATING INSTRUCTIONS
WE BRING THE MEALS. YOU BRING THE HEAT

Thaw your meals in the refrigerator for 24-48 hours prior to heating.
Meals are fresh up to 5 days in the refrigerator or 30 days in the freezer.
MICROWAVE OVEN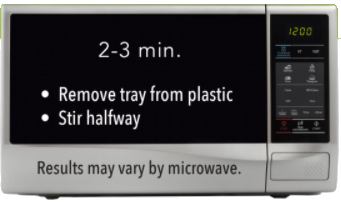 FORGOT TO DEFROST YOUR MEAL?
Although not recommended, meals can be heated from a frozen state. Add time to the above mentioned heating times and stir halfway.
CONVENTIONAL OVEN